Holiday Rambler 5th Wheel Travel Trailer Fender Skirt FS1778

Product Description
73 7/8" x 17 - Tandem axle Holiday Rambler fender skirt. Constructed of durable high-impact ABS plastic. This replacement fender skirt is textured.
These fender skirts fit certain models of Holiday Rambler Presidential Fifth wheels and travel trailers.
Measurements Corresponding to our Measurement Form:
A: 35 3/8" (from hole to hole, as shown in diagram)
B: 11 7/8"
C: 17"
D: 4 1/4"
E: 10 1/2"
F: 73 7/8"
Check your measurements and compare them to the drawing above to verify fit for your RV.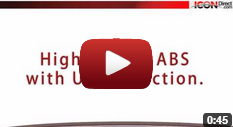 Order Tracking
To track your Icon Technologies.com order please enter your ordernumber and click 'Order'.